Get ready to indulge in a spine-tingling Halloween experience like no other at Meeru Maldiveson on 31st October 2023! 🎃👻
As the Halloween season approaches, we've conjured up a bewitching lineup of activities and treats to ensure your holiday is nothing short of spectacular. From chilling spa specials to thrilling dive adventures and scrumptious dining options, Meeru Maldives has it all.
Spooky Spa Delights at Land and Over-the-Water Spas
Available all-day: Sink into a world of relaxation at our Land and Over-the-Water Spas, where we're offering hair-raising Halloween makeovers. Our expert spa therapists are ready to transform you into the spookiest version of yourself with Halloween hair, make-up, and nails. It's time to unleash your inner ghoul!
"Faces of Halloween" Face Painting Fun
Time: 1500-1600 at For the little ghouls and goblins in your family, we have the perfect activity. Join us from 14:30 to 15:00 at the Koamas Kids Playroom for the "Faces of Halloween" face painting activity. Watch your children transform into witches, vampires, and other Halloween favourites. A meeting point at the Koamas Kids Playroom is where the magic begins.
"Trick or Treat" Kids' Costume Extravaganza
From 15:00 to 16:00 at the same Koamas Kids Playroom meeting point, your little ones can partake in the "Trick or Treat" adventure. Encourage them to don their scariest costumes and embark on a treat-seeking mission. It's an equation where treats equal FUN!
Dive into the Spooky Depths

"Halloween at West Rock"
Time: 1630-1700 at Dhoni Bar Pool Area
Certified divers, it's time for a spine-tingling underwater adventure. Join us for "Halloween at West Rock," an afternoon dive at the eerie Shipwreck dive site. Dive in style with funny and scary costumes – a truly unique Halloween experience!
Spine-Chilling Pool Trial: "Dive in Style"
If you prefer to stay closer to the surface, we have something special for you. From 16:30 to 17:00 at the Dhoni Bar Pool Area, join us for "Dive in Style." It's a pool trial diving activity like no other, complete with funny and scary costumes. Plunge into the water with your Halloween attire and make a splash in style.
Scary Feasts Await
As the sun sets, it's time to tantalize your taste buds. From 19:00 to 21:00, visit both
Farivalhu and Maalan Buffet Restaurants for "Halloween Specials." Savour a delectable array of scary-themed dishes and cocktails. It's a dining experience that will leave you both satisfied and spooked.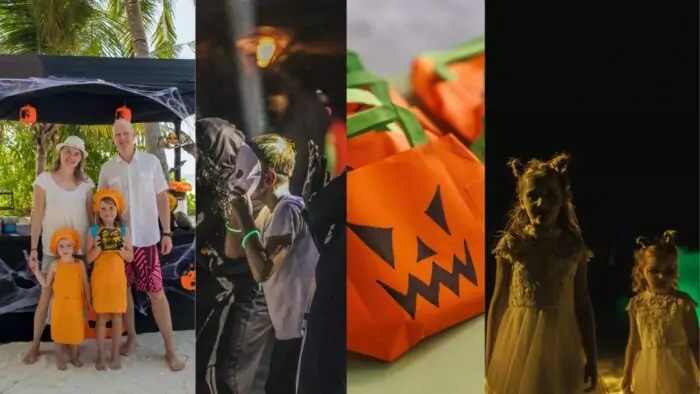 "Kids DJ Night" – Dance in Your Halloween Attire
Time: 2030-2100 at Dhoni Bar Beach
For our little revellers, it's time to groove in your Halloween attires! Join us at Dhoni Bar Beach for "Kids DJ Night." Dance the night away to spooky beats, and don't forget to show off your creative costumes.
Halloween Party with a Twist
Time: 2100-12 midnight at Dhoni Bar Beach
Last but not least, the grand finale of our Halloween celebrations – the "Halloween Party" at Dhoni Bar Beach. Get ready to sip on special Halloween-inspired cocktails and dance the night away under the starry Maldivian sky. It's a night of revelry you won't soon forget!
Meeru Maldives has pulled out all the stops to make this Halloween season an unforgettable experience. From pampering spa treatments to underwater adventures and spooky feasts, there's something for everyone to enjoy. Whether you're travelling with family, friends, or that special someone, Meeru Maldives promises a Halloween like no other. So, pack your costumes and your sense of adventure and join us for a spine-tingling, spellbinding holiday in paradise.