Ready to take the next step in your relationship and create a memory that will last a lifetime? Consider a proposal in the enchanting paradise of Meeru Maldives. With its pristine beaches, crystal-clear waters, and breathtaking sunsets, Meeru offers the perfect backdrop for a romantic proposal. In this guide, we'll explore the various proposal packages and options available to make your special moment truly unforgettable.
Meeru Proposal Experiences and Packages
Imagine standing on the soft, sandy beaches of Meeru, with the warm Maldivian sun setting in the background, or perhaps, proposing under a canopy of twinkling stars. Meeru offers unique and magical settings that will make your proposal truly special. Let's dive into the options available: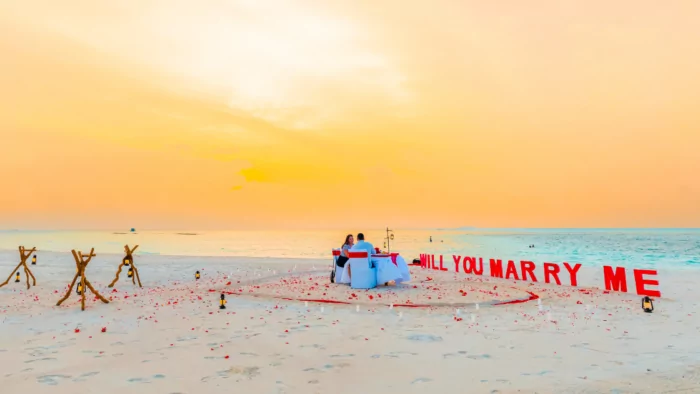 … simply MALDIVES Proposal
Our team at Meeru is dedicated to helping you plan the perfect proposal. We'll assist you in selecting the ideal location, set up a beautifully decorated proposal site on the beach, and even provide a bottle of champagne. The choice of music is yours, and all you need to do is take a leisurely stroll along the stunning beach before popping the question.
Romantic Beachside Classic Proposal
For an even more romantic experience, consider our Romantic Beachside Classic Proposal package. This package includes a beautifully decorated proposal site, an unforgettable night under the starry sky in a deluxe ocean-view setting, a bottle of champagne, and a scrumptious dinner menu. Surprise your loved one with this perfect blend of elegance and romance.
Private In-Villa Proposal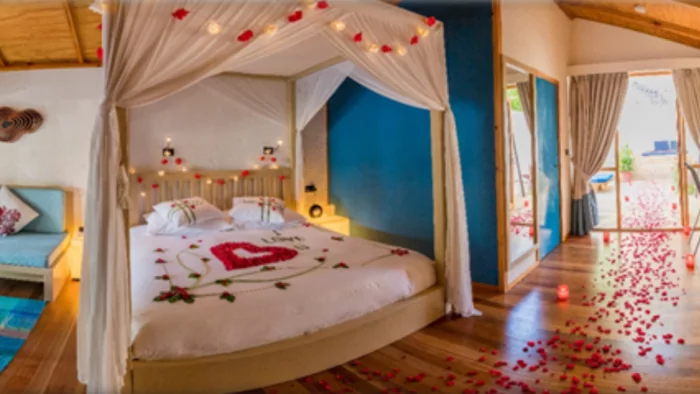 Our in-villa proposal package is the answer for those seeking an intimate setting. We'll provide romantic decor with flowers and a bottle of champagne, taking care of all the engagement planning details. You can focus on the most important moment – popping the question
Traditional Motor Yacht Proposal
If you both love the sea, consider our Traditional Motor Yacht Proposal. Cruise through the tranquil blue waters of Meeru Maldives, with the option of a photographer to capture every moment. We'll handle the setup, and you can enjoy canapés and a bottle of champagne. It's a proposal with a touch of adventure.
Luxury Yacht Proposal
For the ultimate in luxury, opt for the Luxury Yacht Proposal. Cruise on a private yacht through Meeru's serene blue waters, with setup and an optional photographer. We'll pick you up and drop you off from Meeru Island, ensuring a seamless experience. Indulge in canapés and a bottle of champagne as you create memories to cherish forever.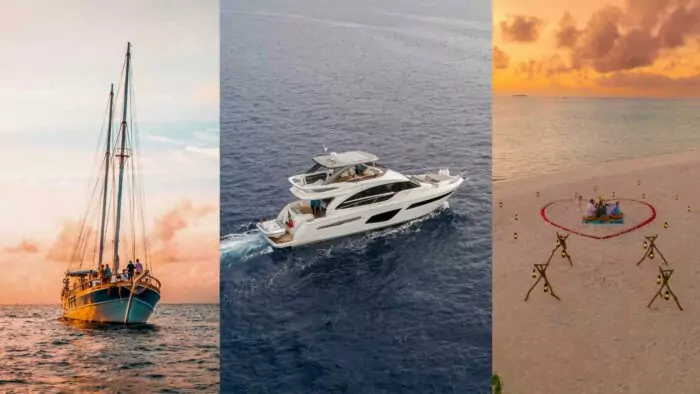 Meeru Maldives is delighted to offer tailor-made proposals, creating unforgettable moments that are as unique as your love story. Whether you envision a beachfront proposal beneath the twinkling stars or an intimate dinner on a private overwater villa deck, we are here to turn your romantic dreams into reality. Don't wait to start planning your special moment; contact us at [email protected] to make your reservation today. Let us help you create a memory that will last a lifetime.