When planning a vacation, choosing a destination that guarantees a memorable experience is essential. One place recognized for its outstanding hospitality and exceptional service is Meeru Island Resort and Spa. Meeru island resort has recently been honoured with the prestigious Tripadvisor® 2023 Travelers' Choice award, securing its reputation as a top-notch vacation spot.
The Travellers' Choice Award is a highly regarded accolade presented to businesses that consistently receive exceptional traveller reviews on Tripadvisor. Meeru Island Resort and Spa has not only met but exceeded the expectations of its guests, placing it among the top 10% of all listings on Tripadvisor worldwide. This recognition speaks volumes about the resort's commitment to providing an unforgettable experience for its visitors.
Situated in the picturesque Maldives, Meeru Island Resort and Spa offers a slice of paradise for travellers seeking relaxation, adventure, and luxury. Let's delve into this extraordinary resort's unique selling points and highlights.
Indulge in Exquisite Dining Options: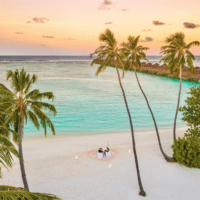 Meeru Island Resort and Spa boasts an array of dining options, ensuring every culinary desire is met. Guests can indulge in various flavours and cuisines, from casual beachside grills to elegant fine-dining restaurants.
Enjoy a romantic dinner under the stars at The Asian Wok Restaurant, savour international dishes at the Farivalhu Restaurant, or unwind with a refreshing cocktail at one of the vibrant bars. The resort's culinary offerings cater to all tastes and preferences, delighting guests with every bite.
Immerse Yourself in Tranquil Accommodations:
Whether you're seeking a private villa on the beach or an overwater bungalow, Meeru Island Resort and Spa offer a range of luxury accommodations to suit every traveller's needs. The resort features tastefully designed villas that provide breathtaking views of the turquoise ocean and lush tropical surroundings. With modern amenities, spacious interiors, and direct access to the pristine beach or crystal-clear lagoon, the accommodations at Meeru Island Resort and Spa offer an exquisite blend of comfort and elegance.
Endless Activities and Adventures:
Meeru Island Resort and Spa caters to adventurers and relaxation enthusiasts alike. Dive into the vibrant marine life with snorkelling or scuba diving excursions, where you can explore the colourful coral reefs teeming with tropical fish. Indulge in various water sports, including kayaking, windsurfing, and jet skiing. In addition, the resort offers rejuvenating spa treatments and yoga sessions for those seeking tranquillity. With many activities available, guests can create their perfect holiday experience.
Unforgettable Simply Maldives Experiences:
What truly sets Meeru Island Resort and Spa apart is its commitment to exceptional service and attention to detail. The dedicated staff members go above and beyond to ensure guests feel welcome and pampered. From the time you arrive at the resort to when you reluctantly depart, the warm hospitality and personalized service will leave a lasting impression.
Meeru Island Resort and Spa has rightfully earned its place as a Travelers' Choice award winner for 2023. This recognition not only showcases the resort's commitment to excellence but also serves as a testament to its guests' countless positive reviews and experiences.
If you're seeking an idyllic vacation in a tropical paradise, Meeru Island Resort and Spa should undoubtedly be at the top of your list. From its exquisite dining options and luxurious accommodations to the plethora of activities and unwavering hospitality, this resort provides an unforgettable escape from the everyday hustle and bustle.
To read the glowing reviews and learn more about Meeru Island Resort and Spa, visit their Tripadvisor page at  tripadvisor.com/MeeruMaldives