Meeru Island Resort & Spa in the Maldives is a tropical paradise that offers its guests an unforgettable experience of luxury and relaxation. One of the most anticipated events at Meeru is the Meeru Pool Party, which takes place the first and last Monday of every month at the Dhoni bar pool.
The Meeru Pool Party is a cool, bustling event that brings together guests from all over the resort. It is an excellent opportunity to socialize, have fun, and create unforgettable memories with your Meeru family. The party takes place in the afternoon, and it is an excellent way to cool off after a hot day in the Maldives.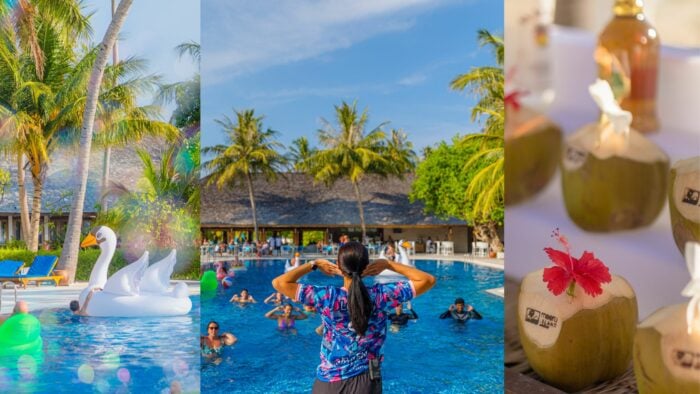 The party is full of activities that are perfect for both adults and children. Aqua Aerobics is a popular activity that helps guests exercise while having fun in the pool. The class is led by a professional instructor who guides participants through a range of exercises that improve strength and flexibility.
If you've never tried diving before, the Meeru Pool Party is the perfect opportunity to try it out. The resort offers a "try-out diving" session during the party, where guests can experience the thrill of scuba diving in a safe and controlled environment.
Water polo is another activity that is enjoyed by guests of all ages. The game is played in the pool, and it is a great way to get your heart rate up while having fun with your Meeru family. Whether you're a seasoned pro or a beginner, water polo is a game that everyone can enjoy.
Of course, no pool party is complete without cocktails, and the Meeru Pool Party does not disappoint. The Dhoni bar serves up unique and delicious cocktails that are perfect for sipping by the pool. Whether you prefer fruity or boozy drinks, the bar has something for everyone.
Overall, the Meeru Pool Party is a must-attend event for anyone visiting Meeru Island Resort & Spa. It is a fun-filled afternoon that is packed with activities, laughter, and great company. So, pack your swimwear and book your stay at Meeru to join in on the fun!
Offers are correct at the time of publishing in May 2023 and subject to change. Please see current offers for latest specials.