New look, new vibe but still with the same Simply Maldivian feel, Nestled among the palm trees and lush foliage, a new reception area has recently been built, and it's quickly becoming the talk of the island.
The reception area is designed in a traditional Dhoni-shaped roof and high beams supporting the structure. The architectural design use of traditional boat structure and techniques helps the building blend in with the culture of the island and the natural surroundings, making it feel like an extension of the island itself.
Your welcome to reception up on arrival is with harmonious sound of Bodu Beru drums. Upon entering the reception area, visitors are greeted by a spacious lobby with high ceilings and plenty of natural light. The floor is tiled, and the walls are adorned with traditional artwork and crafts. There's a cozy seating area where visitors can relax and take in the beautiful surroundings, and our team serving refreshing Ice Tea.
Beyond the lobby is a series of facilities, each with its own unique character and charm. The main reception offers a Gift Shop, Aqua shot, tailor shop, Photo Studio, business center as well as meeting room for business events and conferences.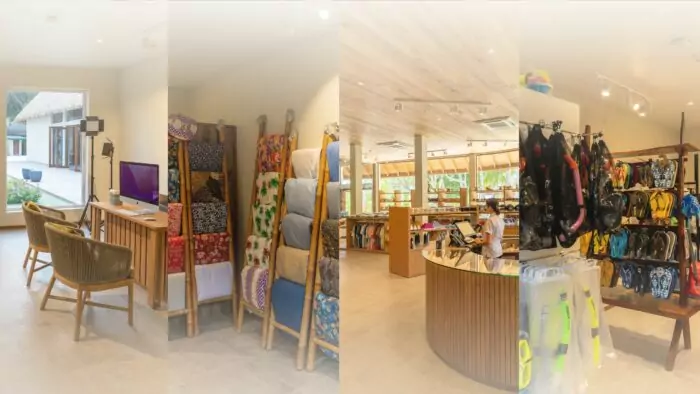 As the sun sets and the stars come out, the reception area transforms into a magical place. The illuminations inside the reception casts a warm glow over the entire structure making it an area which the visitors can relax or simply enjoy the views.
Overall, the new reception area on the tropical island is a true gem, combining traditional designs with modern amenities to create a truly memorable experience for visitors. Whether you're looking for a relaxing getaway or a business conference with a difference, this is the perfect place to be.