Before we delve into the world of extraordinary flavours, let's take a moment to appreciate the vibrant and breathtaking atmosphere of Kakuni Bar at Meeru Maldives. Nestled amidst palm trees and overlooking turquoise waters, Kakuni Bar sets the perfect stage for an unforgettable cocktail experience and nightlife. With its inviting ambience and impeccable service, Kakuni Bar is a must-visit bar for cocktail enthusiasts.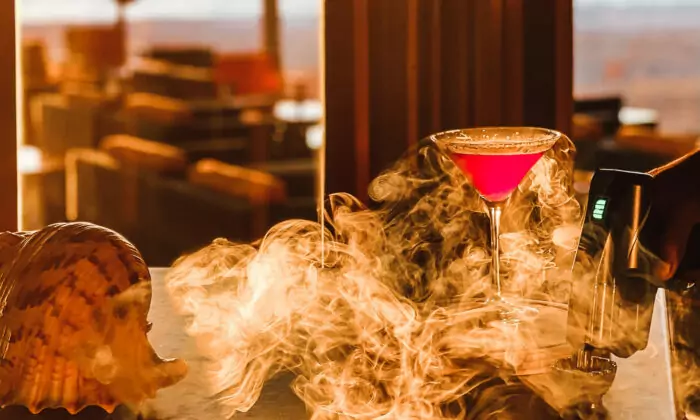 Welcome to the world of Flavour Blaster cocktails, where we take our mixologist's skills to the next level. Get ready to impress your taste buds and elevate your cocktail game!
Flavour Blaster adds an explosion of flavours to our cocktails. It's a versatile ingredient that allows us to infuse spirits, create flavoured syrups, and enhance garnishes. By incorporating Flavour Blaster into the recipes, we create unique and unforgettable drinks that tantalize your senses. Let's dive into some of the top Flavour Blaster cocktails at Meeru Maldives.
Spiced Sour
One of their signature cocktails, the Spiced Sour, is a refreshing blend of Captain Morgan Dark Rum, Disaronno liqueur, lemon juice, sugar syrup, red wine, aromatic spices, citrus peel, and sugar. It captures the essence of the tropical paradise.
Truffled Negroni
For those seeking sophistication, the Truffled Negroni is a must-try. This well-balanced cocktail combines Beefeater Gin, Campari, sweet vermouth, and subtle truffle flavours, providing a bitter-sweet and complex taste experience.
Coco Mapled Fashion
Indulge in luxury with the Coco Mapled Fashion, featuring Jim Beam Bourbon, maple syrup, Angostura bitters, and served over ice. Its smoothness and elegance create an opulent sensation.
Spark & Stormy
The Spark & Stormy offers a tropical twist, blending tequila silver, Diambule liqueur, coffee, pineapple juice, and soda for a refreshing and invigorating experience.
Preakness Manhattan
For an exquisite and regal choice, the Preakness Manhattan perfectly combines Courvoisier VSOP Cognac, Jim Beam Bourbon, Benedictine liqueur, sweet vermouth, and Angostura bitters, delivering a rich and luxurious taste.
Kakuni Bar takes pride in its meticulously crafted cocktails, showcasing the expertise and creativity of our mixologists. Whether you prefer tangy, sophisticated, luxurious, tropical, or regal flavours, this bar guarantees an exceptional drinking experience.